Climathon is coming to Darmstadt!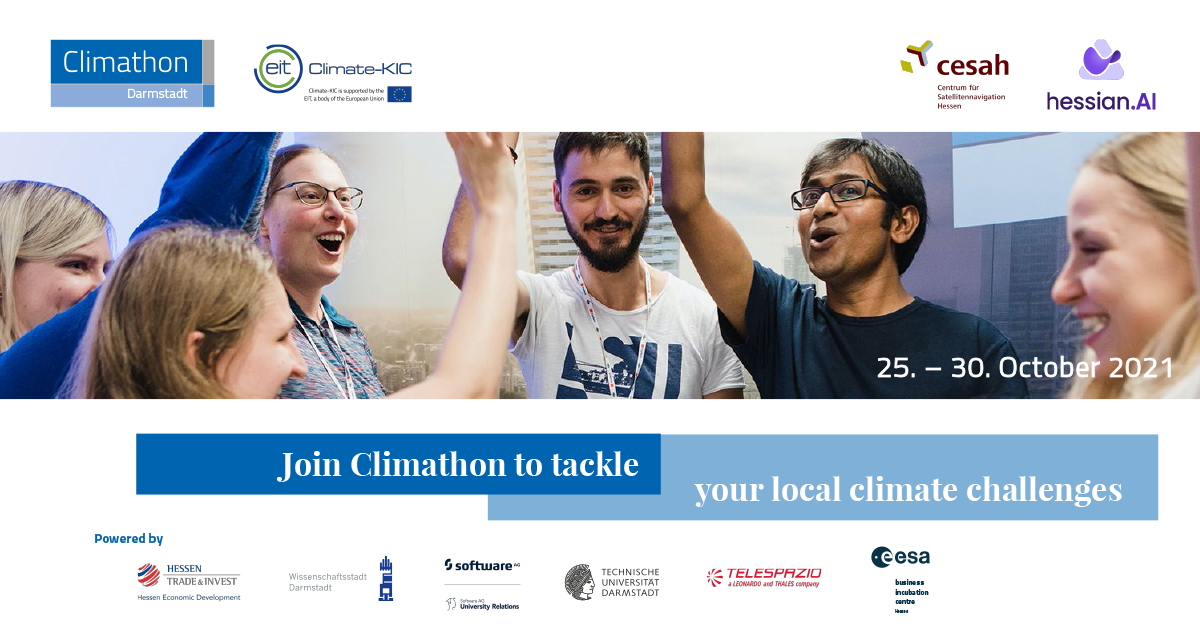 Pitch
Konferenz
Networking
Kostenfrei
Anmeldung erforderlich
Climathon is coming to Darmstadt!
Let's tackle the local climate challenges that our community is facing – join the Climathon in Darmstadt! (hybrid event)
Climathon is a global movement that organises locally; a city-based programme that offers a clear pathway to climate action. At the core of the Climathon programme is a yearly ideathon that takes place in your city and in hundreds of other cities across many continents and time-zones.
Participants of the hackathon are united by the believe that they can act on climate change
You are
interested and motivated to work against climate change
an experienced researcher, decision maker, craftsman, technician or a student (Bachelor/Master) with a background in STEM, live sciences or economics
able to work remotely in a team, if necessary (all you need is a computer and access to the internet, we will provide you with access to Microsoft Teams)
having fun digging into problems and finding new solutions
a team player with a flavor of entrepreneurial spirit
ideally, located in Darmstadt or the Rhine-Main-Region
18 years old or above
Then take part and join a global community of thousands who want to act now, and rethink the cities we live in and the future we want as citizens!
The registration for the Climathon in Darmstadt is now open! Join the hackathon and tackle the local climate challenges that our community is facing!
Hessian.AI and Cesah GmbH Centrum für Satellitennavigation Hessen are organizing a 5 day event full of fascinating challenges, interesting training sessions, hands-on support by mentors, and of course lots of fun! Their partners are: Hessen Trade & Invest GmbH, Wissenschaftsstadt Darmstadt, Software AG, Technische Universität Darmstadt Telespazio Germany GmbH, ESA BIC Hessen & Baden-Württemberg, Climathon Climate-KIC and ESA Space Solutions.
Find out more here:
👉 https://climathon.climate-kic.org/darmstadt
🗓️ 25 - 30 October 2021
We are looking forward to welcoming you to the Climathon in Darmstadt!