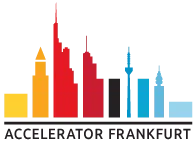 Accelerator Frankfurt GmbH
Angebot
Finanzierung
Gewerbefläche
Mentoring & Weiterbildung
Beratung
Frankfurt is an important hub in Germany, one of Europe's strongest economies. As a major financial center, Frankfurt is only increasing in importance in the post-Brexit era. Frankfurt has over 250.000 corporates and thousands of hidden champions. Not only is Frankfurt a hotspot for banks, investors and international corporations, it also has a thriving startup scene and many talents with great ideas who want to start their own companies. Opportunities abound both on the customer and the investor side, while B2B clients, banks and financial institutions are ready to run proofs of concept.

This is where we come into play: our unique go-to-market program accelerates B2B software startups in the fields of Fintech, Regtech, Cybersecurity, Insuretech, Proptech and Blockchain. The startups receive mentorship from experienced entrepreneurs and investors, consulting and professional services, in addition to a co-working space. The goal of the program is to help startups win customers and raise funding. The 3-month program ends with a demo-day, where the startups pitch to corporates to secure proofs of concept and investors to raise follow-up funding.

We provide investment opportunities for investors looking for stable innovation businesses and connect them with the most promising startups. For corporations, we offer services that bring the innovative approaches of the startup world to companies who want to become innovation leaders in their industries.

We've come a long way since that first meeting in Shanghai. Whether you are a startup, an investor or a company: our team would love to hear from you. You never know what a first meeting will lead to.
Accelerator Frankfurt GmbH
Neue Mainzer Str. 66
60311 Frankfurt am Main